Introduction:
Preliminary draft of the ancestors of Grace Messenger Scripps. Prepared as part of the history of the Scripps, Clark, Revelle, and Dougan families by William Revelle.
---
The source for much of the first 7 gerations is from
Scripps, James E.(1903) A genealogical history of the Scripps Family and its various alliances. Detroit. Printed for private circulation. 17 of 120.)
---
Table of Contents
Thomas Scripps --- Anne Finch
Robert Scripps ..... May 16, 1641 --- Mary Westfield
Robert Scripps ---Sarah Plowright
William Scripps Sept 6, 1724-1773/80 -- Susannah Chapman
William Scripps March 20, 1749-Nov. 8, 1823 -- Grace (Locke) Scripps
William Arminger Scripps, July 21, 1772-August 26, 1851 ---- Mary Dixie
James Mogg Scripps, b. Sept 9, 1803 - -May 12, 1873 -- Ellen Mary Saunders
James Edmund Scripps b. March 19, 1835 -1906 --Harriet Josephine Messenger
Grace Messinger Scripps December 1878-1971 --- Rex Brainerd Clark
"The Scripps family, at the earliest period, of which we have knowledge of it, was domiciled at Ely, Cambridgeshire, England. The earliest date at which the name is found in the parish registers of the city is January 16, 1619-1620, when Amy Crips, an infant was buried. Then there are no other registeries until 1630, from which year down to 1758 they are very numerous. In the nine earliest registries the name is spelled Crips or Cripps, the initial S being first found in 1634, when in the record of a baptism the name is first written Crips and aftwards altered to Scripps. The identity of the names is quite apparent.

"The earliest clearly made out progenitor of the family was one Thomas Scripps. Throughout the registers the name is almost invariably spelled by the parish clerk with a single p, though it is certain that the family themselves spelled it as we still do. This Thomas Scripps was married to Agnes or Anne Finch on January 21, 1630. Their children were as follows (with dates of baptism)
William Scripps .... October 31, 1630
Thomas Scripps ..... October 21, 1632
John Scripps ....... February 21, 1636
Joan Scripps ....... January 28, 1638
Robert Scripps ..... May 16, 1641
On October 27, 1650, Anne Scripps, wife of Thomas, was buried, and on December 16, 1651, Thomas Scripps was married to Elizabeth Atkin. There seems to have been no issue by this marriage. This Thomas Scripps probably had a brother William, for a William Scripps was married to Joan Fox on January 16, 1638. This may explain Thomas's daughter born about the same time being named Joan. It is probable that this was a second marriage of William's, for there had been children of a William Scripps baptized in 1631, 1634, and 1637. But none of William's posterity seem to have survived. He probably died before 1645, for on May 14th of that year, Joan Scripps was married to William Riches."
---
Robert seems to have first married an Elizabeth (buried in Ely, Sep. 30, 1644), then to Elizabeth Sargison, Jan. 26, 1668. They had two children, both of whom died in infancy and the mother was buried on the same day that her younger was baptized, Dec. 23, 1669.

On May 2, 1671, Robert married Mary Westfield (she died, Feb 13, 1712.). He seems to have been a carpenter. They had the following children:
Anne Scripps May 27, 1672-Aug. 18, 1672
Mary Scripps Aug. 30, 1673-
Anne Scripps Feb 24, 1681-
Thomas Scripps April 6, 1684
William Scripps Jan. 23, 1688
Robert Scripps (baptism not recorded)
---
Married Sarah Plowright, April 13, 1718, she was "daughter of John, and probable granddaughter of Simon Plowright. John Plowright died in 1722. She had two brothers, Thomas and John. The Plowrights, father and sons, were all carpenters, as was also Robert Scripps. They owned property in Ely, and in 1673 Simon Plowright was taxed for two hearths, implying considerable circumstances.

"Robert and Sarah Scripps's children were as follows:
Thomas Scripps Nov 6, 1720 May 22, 1722
Sarah Scripps Jan 14, 1722, Jan 17, 1722
William Scripps Sept 6, 1724-1773/80
Mary Scripps Jan 4, 1726
"There were also five other children buried between 1723 and 1728 who were probably theirs. ... The probability is that of a family of nine children all but one, William, died in infancy. From the fact of Robert Scripps losing two pieces of property by mortgage foreclosure, as appears by the manor rolls, it is to be inferred that he was not a succesful business man. Sarah Scripps was buried at Ely, May 3, 1729, and her husband on the 20th of the same month."

"William Scripps, son of Robert and Sarah, baptized at Ely, September 6, 1724. He was but four and a half years old at the time of his parent' death, and was probably brought up by his uncle, Thomas Plowright, who appears to have been childless. He inherited the property of both his mother's brothers at their death. He followed the carpenter's trade, and appears to have been foreman or superintendent for all the work required by the cathederal authorities at Ely. When the dome and the lattern of the cathedral were restored, between th years 1757 and 1762, he had charge of the work. There is a family tradition that, having a dispute with the Dean and the Chapter regarding some payments, he refused to take down the scaffolding employed in the work until his claims were adjusted, and so ingeniously was it constructed that they were unable to find anyone else who could remove it, and so were compelled to yield to his demands. This does not, however, seem to have made any difference with his relations with the cathederal authorities, for as late as 1769 we find, by bills rendered to the Dean and the Chapter, that he was still engaged upon work for them. He is said to have been a very superior mechanic, but given to jollity and perhaps dissipation. On the south wall of Bishop Alcock's chapel, at the eastern extremity of the north aisle of Ely Cathederal, the name "W. Scripps, Anno Dom. 1763" may be read, scratched with a sharp instrument. He removed to London, and died there, some time between 1773 and 1780."

"He married, February 24, 1746, Susannah Chapman, whom I take to have been a daughter of Giles Chapman and granddaughter of Robert Chapman. The registers show the baptism of six children of William and Susannah Scripps:"
Sarah Scripps Feb 12, 1747
William Scripps March 20, 1749-Nov. 8, 1823
Mary Scripps Feb 16, 1751 (died Feb 23, 1751)
Mary Scripps May 13, 1753
John Plowright Scripps Sept 1, 1755, died Sept 7, 1755
Anne Scripps May 15, 1757
---
William Scripps (March 20, 1749-November 8, 1823)
"William Scripps, son of William and Susannah Scripps, was born in Ely, March 20, 1749, O.S. and was baptised in Trinty Church in that city on April 6 of the same year. He was nine years old when his mother died. He was taught his father's trade, but was injured, probably in some street brawl, and spent several years on crutches. In search of a cure he went to London, where in 1771 he married Grace, daughter of Joseph and Mary Locke, a great-great-grandaughter of Anthony Pearson, a Quaker of prominence during the period of the Commonwealth. William Scripps embarked in the shoemaking business, and employed a large number of men, but he was unsuccessful, and on May 1, 1791, sailed with his family, except his eldest son, for America. He came over in the brig Minerva, commanded by Capt. Porter, father of Commodore David Porter, and grandfather of Admiral David D. Porter, USN. and landed in Baltimore early in July. In October he settled in Alexandria, Va., where he resumed the shoemaking business and opend a general store. A year later he bought a large tract of land near Morgantown, West Va., without seeing it, and as it turned out was badly swindled. In the autumn of 1792 he removed to this property, his effects being conveyed in three wagons, each drawn by four or six horses, and his wife riding a horse, named Chevalier, which had carried Gen. Washington through the War of the Revolution, but which was now superannuated and suited only to a woman's ridign. Besides his own family, William Scripps took with him a number of mechanics and others, intending to found a colony on his estate. Three weeks were required for the journey of 250 miles through the wilderness, and Morgantown was reached early in December. Here, disappointed, he resided in poor circumstances until May, 1809, when at the instance of his sons he removed to Cape Girardeau, Mo. There his wife, Grace, died on July 17, 1811, and he on November 8, 1823, both being buried in the little cemetery of Gape Girardeau, on the bluffs overlooking the Mississippi.

"William Scripps was a man of intelligence, information and refinement, and an extensive reader. He was short in stature, of active, bustling manner, and was greatly given to jocularity. His later years were spent as cutter in a shoe shop carried on by one of his sons. His wife, Grace, was a lady of culture and refinement and considerable pride. That they must have possessed sterling qualities is proven by the characters and successful careers of their three sons. In the great religous revivals which characterized the opening years of the nineteenth century the whole family became zealous Methodists.

"William and Grace Scripps were parents of about 19 children:
William Arminger Scripps, born July 21, 1772
Joseph Locke Scripps (date of birth lost, died at 4 1/2)
Benjamin Scripps, born May 15, 1779
... 8 children who died in infancy
John Scripps, born August 26, 1785
Anne Scripps, born Jan 10 1787
Sarah Scripps, born Feb 12 1788
Sarah Scripps, born March, 1789, died in Morgantown, sept 1793
George Henry Scripps, born and died, Alexandria, 1792
Camilla Scripps, born and died near Morgantown, 1794
one stillborn, 1796
---
William Armiger Scripps, July 21, 1772-August 26, 1851
"William Armiger Scripps, eldest son of William and Grace (Locke) Scripps, was born in London, July 21, 1772. His name Armiger was derived from one William Armiger of Ely, who in 1746 married his great-aunt Elizabeth Plowright. At an early age he entered the office of the London Daily Sun as a clerk, and in February, 1801 became publisher of that paper. This position he resigned in 1820 to become the publisher of The Literary Gazette, a connection he retained until his death. About 1802 he added to his other business a general newspaper agency in South Molton Street, which is still continued in the hands of a great-grandson. In August, 1797, he married Mary Dixie, who was born in St. Neets, Huntingdonshire, on the March 30, 1771. She died at Earl's Court, near London, October 6, 1838. He twice visited America, once in 1833 and again in 1843. In his later years he bought St. Catherines Hall, Niton, Isle of Wight, where he ended his long life, dying suddenly, August 26, 1851. He was buried beside his wife in Kensall Green Cemetary, London. He is remembered as short of stature, bald, fond of a joke, a good story teller, and extensive reader, a close observer, possessed of considerable literary ability and powers of caricature, a man of sound judgment and superior business capacity. His children were as follows:"
Mary Heriot Scripps, b. August 1, 1798
Willian Washington Scripps b. February 26, 1800
Virginia Grace Scripps, b Feb 6, 1802
James Mogg Scripps, b. Sept 9, 1803
John Dixie Scripps b March 14, 1806
Thomas Scripps b August 16, 1809
Anne Elizabeth Scripps b. Dec. 1, 1816
---
James Mogg Scripps (September 9, 1803-May 12, 1873)
"James Mogg Scripps ... , born in London, September 9, 1803; apprenticed at 14 to the bookbinding art which he followed upon his account at No. 5 South Molton Street from 1827-1844. He then emigrated to America and spent the rest of his life mainly in agricultural pursuits at Rushville, Ill. On January 25, 1829, he married Elizabeth Sabey, of Biggleswade, Bedforshire, by her he had children as follows:
William Sabey Scripps, b. October 12, 1829, d. Jan. 8, 1831
Elizabeth Mary Scripps, b. April 23, 1831
"Elizabeth (Sabey) Scripps died May 19, 1831, aged 26 years. He then married, on January 9, 1833, Ellen Mary Saunders, daughter of Edmund and Elizabeth Saunders, and granddaughter of Abraham Mogg, of Bristol, who was born January 21, 1804. The issue by this marriage was:
Ellen Sophia Scripps b. Nov. 30, 1833 d. May 8, 1834
James Edmund Scripps b. March 19, 1835 -1906
Ellen Browning Scripps b. Oct. 18, 1836- August 3, 1932
William Armiger Scripps, b July 14, 1838
George Henry Scripps b August 14, 1839
John Mogg Scripps b. Nov 24, 1840
"Ellen Mary Scripps died April 30, 1841, and is buried in St. Georges Burying Ground, Bayswater, London. After emigrating to America, James M. Scripps remarried, November 26, 1844, for his third wife, Julia Adeline Osborn, who was born at Ogdensburgh, N.Y., December 18, 1814. By this marriage he had children as follows:
Julia Anne Scripps b. June 8, 1847
Thomas Osborn Scripps, b. Nov. 5, 1848-Jule 21, 1853
Frederick Tudor Scripps, b Nov. 15, 1850
Eliza Virginia Scripps, b. Oct.10, 1852
Edward Wyllis Scripps, b. June 18, 1854
"James M. Scripps died in Rushville, May 12, 1873. He was a man of great mechanical skill, industry, bold enterprise, intelligence, and high personal character. As a book binder he had worked under Charles Lewis and at one time ranked as as one of the two best binders in London. He has been credited with being the first to practice the binding of books in cloth. Upon settling in America he engaged successively in tanning and brick making, then established the first planing mill in Quincy, Ill.; was the first to furnish Rushville with ice, and later engaged extensively in the manufacture of molasses from sorghum. He invented a corn planter which, patented by another party, is in use to this day. Julie Adeline Scripps died at Miramar, Calif., June 18, 1893 and was buried in Rushville."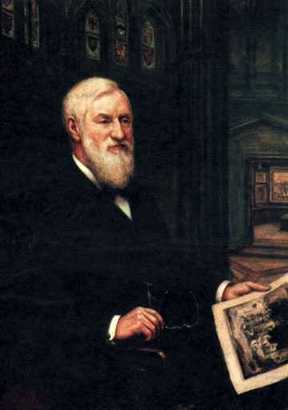 "James Edmund Scripps (James M., William A., William, William, Robert, Robert, Thomas), born in the parish of St. George's, Hanover Square, London, March 19, 1835; taken to America in 1844; grew up on a farm at Rushville, Illinois; received only country school education; went to Chicago in 1857, and secured employment on the staff of the Chicago Tribune; removed to Detroit 1859, andin 1862 became manager of the Detroit Tribune. Founded the Evening News Association August 23, 1873, and later became interested in newspapers in Cleveland, St. Louis, Cinncinnati and Chicago. Aided prominently in founding the the Detroit Museum of Art, and in 1889 presented it with a collection of old masters costing $75,000. In 1891-3 built Trinity Reformed Episcopal church, at about the same cost. Served successively as a member of the Detroit Board of Park and Boulevard Commission, and on the Publich Library Commission. Served a term in the State Senate, 1903. Published "Five Months Abroad," 1881; "Memorials of the Scripps Family", 1891, and numerous pamphlets. Married, at Detroit, September 16, 1862, Harriet Josephine Messinger, daughter of Hiram King and Mary Ann (Warren) Messinger, who was born in Peru, Vt., December 31, 1838." (JES, 1903)

Founder of the Detroit News and the Evening News Association. Also a major patron of the Detroit Art Museum

"In the second half of the 19th century, even before the birth of the automotive industry, Detroit was already widely known as a manufacturing center. The Pullman Car Works, which built railroad cars, as well aa shipyards, iron and copper works, tobacco factories, sawmills and brickyards had caused the city's population to swell to 200,000.

In 1873, James E. Scripps decided to tap this growing class of working men and women by launching a new newspaper, The Evening News. He filled the paper with inexpensive advertising and instructed his reporters to write "like people talk." His competitors called The News "a cheap rag" and labeled his reporters "pirates," but Detroiters loved it. And it made Scripps rich. " (source: the Detroit News History)

He and his wife Harriet Josephine Messenger had 6 children:
Ellen Warren Scripps (July 10, 1863-1948) married George Gough Booth, who also worked at the newspaper and was involved in the founding of the Booth Newspaper chain. He also founded Cranbrook schools and museum.
Anna Virginia Scripps (March 5,1866- 1953) married Edgar Bancroft Whitcomb. The couple became generous benefactors of the Detroit Art Museum.
James Francis Scripps March 26, 1870-November 25, 1882
Harriet Mary Scripps, March 19, 1873- February 4, 1875
Grace Messinger Scripps, married Rex Brainerd Clark, whose grandson Peter B. Clark was publisher of The Detroit News when it was acquired by the Gannett Corp. in 1986.
William Edmund Scripps (May 6, 1882-1952), married Nina Amenda Downey and had four children. When one of them, James Edmund Scripps II, died of apppendicitis at age 22 in 1925, his parents donated a painting to the museum in his memory.
Grace Messinger Scripps (December 1878-1971)
3rd child of James E. Scripps. Married Rex Brainerd Clark (born May 31, 1876, died September 1955) in 19xx, divorced 1928. They had three children:
Rex Scripps Clark July 21, 1902- April 14, 1986
William Scripps Clark January 27? 1908-198?
Ellen Virginia Clark 1910-
Later remarried Gotfrid Johanson, July, 1932.
---
Prepared as part of the history of the Scripps, Clark, Revelle, and Dougan families by William Revelle.
last updated September 30, 2001.
comments and corrections to William Revelle
bill@revelle.net/a>.