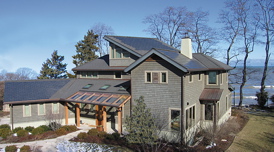 Awards
The home received an award for "architectural and green design" from Design Evanston at a presentation ceremony on April 6, 2006. Design Evanston is a nonprofit, volunteer, civic organization of design professionals dedicated to advancing the quality of Evanston's designed environment. Photos of all award winners can be seen on the Evanston Chamber of Commerce website.

High Performance Buildings Database
The house is one of 100 building projects included in the U.S. Department of Energy's High Performance Buildings Database, a repository of in-depth information and data on high-performance, green building projects across the United States and abroad. Projects range in size from small single-family homes to large commercial and institutional buildings. The database presents information on the energy use, environmental performance, design process, finances, and other aspects of each project. Twelve screens of detailed information are included in the project profile for this house.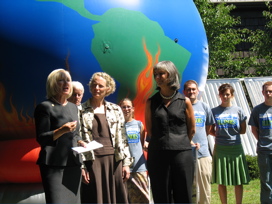 Media Event
On July 18, 2006, the house was the setting for a media event aimed at promoting state and federal policies to address global warming. Sponsored by Environment Illinois, a nonprofit, nonpartisan environmental advocacy organization, the event featured a 20-foot-tall inflated globe sitting in a ring of painted flames to depict global warming.
State legislators speaking at the event--Representative Karen May (D-Highland Park), Representative Elaine Nekritz (D-Des Plaines), and Senator Susan Garrett (D-29)--all indicated that they had signed the Environment Illinois Global Warming Solutions Pledge and endorsed a strong state program to reduce greenhouse gas emissions.
House Tours
The following organizations have included the house in one or more of their annual tours.
Illinois Solar Energy Association (ISEA). The house was included in the 2005 and 2007 Illinois Solar Tours sponsored by the ISEA, the Illinois chapter of the American Solar Energy Society (ASES). Visitors had an opportunity to learn in detail about the renewable energy systems of the house. It will be included again in the 2008 solar tour, which will take place on October 4, 2008.

Keep Evanston Beautiful. The home's renewable energy systems and eco-conscious landscaping were featured in the 2007 Evanston Garden Walk presented by this nonprofit organization.
Publications
Articles about the house have appeared in the following magazines.
Midwest Home Chicago, Graciously Green, April/May 2008

NorthShore Magazine, The Green House Effect, March 2008.

Northwestern, Renewable Resource Course, Spring 2008.

Focus, AIA Chicago, cover story: Green Single-Family Homes, March 2005
Press
Articles about the house have appeared in the following newspapers.
Chicago Tribune, Green Highlights: In push for energy efficiency, homeowners put roofs at top of lists, 3/20/08.

Evanston Review, Green Floors: Bamboo, cork, other eco-friendly materials flooding markets, 11/15/07.

Evanston Review, Going green on the lakefront: Evanston couple turns home into environmental role model, 6/28/07.

Evanston Review, Global warming tops agenda at Evanston house, 8/3/06.

Evanston Roundtable, Legislators Call for State Action Against Emissions that Contribute to Global Warming, 7/26/06.

Chicago Tribune, State gets environmental heat, 7/19/06.

Evanston Roundtable, Design Evanston Presents Awards, 4/19/2006.

Chicago Tribune, Watering the lawn has you drained? Tap into strategies for using less, 6/17/2005.

Daily Northwestern, Homeowners turn green to save money, energy, 4/21/2005.

Evanston Review, Free solar home tour in northern suburbs, Saturday, 9/30/2004.

Evanston Roundtable, 2003... Another award winning year for Evanston, 12/31/2003.

Chicago Tribune, 'Green' house on Internet, 11/2/2003.

Evanston Roundtable, Solar House Reflects the Possibilities of Renewable Energy, 9/10/2003.